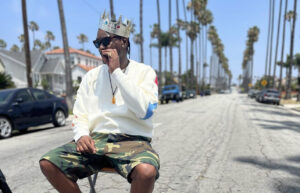 Vitals
Born: 1990
From: Umlazi, South Africa
Resides: Atlanta, USA
Genre: Hip hop
Talents: Freestyling, Acting
Bio
Ngola is a vessel delivering principles of African Spirituality from Idlozi (Ancestors) to the world through contemporary music to help people explore their own godself and connect to a deeper sense of the human experience.
Born in Umlazi "The Kingdom" Township in South Africa in 1990, Ngola creates a brand of hip hop music called Zulu Sci-Fi – speaking mostly in English to reach a global audience while introducing people to Zulu words and phrases, never forgetting where he comes from.
You'll dance, you'll laugh, you'll dream, and you'll think as Ngola taps thousands of years of mostly forgotten African traditions to introduce young people to an empowering belief system that can help them make sense of the modern world.
Ngola channels a message of hope, oneness, maternal divinity, and kingship to the African Diaspora; those with and without their ancestral roots. Ngola carries the family blood of the Zulu warrior King Shaka Zulu (umkhulu, ukhokho khulu Inkosi uShaka Zulu) and is a great grandchild of Princess Nombizo uMntwana ka Mpikanina, ka Ziwedu ka Mpande owakwa Dinababo eMatheni kwaNongoma and Prince Mansici ka Msiyane ka Somopho ka Skhali ebaThenjwini from the royal house of the Mthembu family oGabadela oMnisibemvula oNdabakomkhulu, oMavulak'valiwe Iingqalabutho, Iishingshang zoMoya.
Tune into Ngola's music on all major streaming platforms and follow his Instagram to explore the mysterious and powerful world of African Spirituality directly from a descendent of one of the continent's greatest Kings.